OXYLIFE for production Oxygen & Nitrogen Generators (PSA SYSTEM)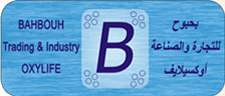 Bahbouh Oxylife Factory is one of the earliest factories in the Middle East and Arab countries.
It produces various gas stations, such as oxygen and nitrogen, locally, and according to PSA system, based on the finest international specifications and provisions, breaking through a technology that stayed away from the hands of the region for over thirty years.
It is the first local Arab Middle East company that manufactures this type of stations with technical properties, whose quality exceeds the best European and American products, and with accurate scientific calculations of the nature of climate and the region as well as other changes related to each separate location, in order to be projected according to the final capacity and volume of the required station, and to reach the optimum economical use of it.
Bahbouh Oxylife is a trade mark which obtains ISO international quality certificates 9001 in 2008, and sticks on the conformity of product according to the Syrian standards and metrology, besides the international standards relative to this type of products, such as 2006/10083 ISO & CD5/057/MAY2004 DIN. Most important scopes and areas for the use of the produced gas in this way, are: Hospitals, sewage plants, ships, glass factories, packaging, medicine factories, medical, food, and industrial laboratories,
in addition to many other various fields, which can be summarized as follow: Any facility that uses industrial and medical oxygen or nitrogen in its services or industry, can substitute the normal cylinders or liquid gases with this relatively small economical set.
This technology became the first option, internationally, at the supply of required gases, due to many features, most important of which are:
- Permanent readiness. The set works automatically on electrical power, only.
There are no consuming materials, except for periodical maintenances for filters and oils.
- Occupied area is relatively small.
- It is possible to be used commercially and strategically by linking the set with the filling system of high pressured cylinders.
- Saving 65% of the operation cost, and saving the use of high pressured cylinders or liquid gas.
- Entire independence in obtaining the required gas without any external hindrances.
- Taking the advantage of the station for other uses, such as normal compressed air.
- Easy shipping, installation, and transportation, even after use.
- Obtaining stable health rates from the intensity of the required gas.
- Fulfilling the principle of safety and security by working in a low pressure atmosphere, contrary to the high pressure one, such as in cylinders and liquid gas.
Factory Address: Homs – International way of Hama
Tel.: 00963 (31) 2238420
Fax: 00963 (31) 2238421
www.oxylife-med.com
info@ oxylife-med.com
Contact Person : Mr. Mohannad Bahbouh